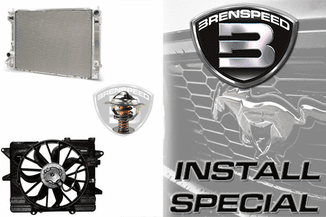 Call Us For Best Pricing
Need an installation quote? Email
quote@brenspeed.com
or call us
574.594.9559
(option 5) with your year, make, model, current mods, and request for pricing on what you want installed
.

Brenspeed Install special that includes a 2005-2009

Brenspeed Cooling System Package

PLUS Professional Brenspeed installation. Check out the huge savings!!

Act FAST and schedule your appointment with Brenspeed before spring so your Stang is ready to hit the streets when the weather breaks!!

Contact the Brenspeed service department to schedule at 574-594-9559 Today!!


This custom Brenspeed Kit uses only top quality and performing parts for your Mustang.




Starting off with AFCO Radiator to replace that wimpy plastic tank factory Radiator. Huge upgrade!!


PLUS an Upgraded Ford Performance Cooling Fan help disapate heat!!!

ALSO INCLUDED is a Brenspeed 160 Degree Thermostat to get that coolant flowing!! This is a HUGE improvement over the factory parts.