Brenspeed Explains Wheel Hop Fix and BMR Lower Control Arms 05-13 Mustangs


I thought I would take some time to explain in a little more detail how a
BMR lower control arm
is much different than your factory lower control arm. If you drive your Mustang hard you may have noticed "wheel hop". Wheel hop is when you try to accelerate at a very fast pace and rear of the car literally hops up and down during your launch. Certain road conditions can make wheel hop worse than others, but if you have it you know how annoying wheel hop truly is. Not only does it affect traction but can be very hard on other components of your suspension. Below you will find some detail on one specific lower control arm for 2005 to 2013 Mustangs, the
BMR TCA 019.
The OEM Ford lower control arm shown below is basically a mass produced stamped arm that will flex under hard acceleration. By improving the bushing to reduce deflection and improving the arm itself to reduce flex you will find wheel hop and rearend stability is drastically improved. Sound easy? Well there is a lot more that goes into a QUALITY BMR lower control arm than improved bushings and a stiffer arm itself.
Below is a picture of the bushing that is used on the TCA019 control arm that we use here at Brenspeed and sell on
www.brenspeed.com
. BMR was the first company to put a fluted bushing into a Mustang control arm. The "flutes" in the bushing allow the lubrication to spread evenly throughout the surface area of the bushing that contacts the bolt sleeves.
The flutes also allow the grease to remain within the lubricated area for a longer period of time when compared to a non fluted design that most companies use. The bushing is made from a 95 durometer polyurethane compound which allows improved rearend stabilization and improved life of the bushing.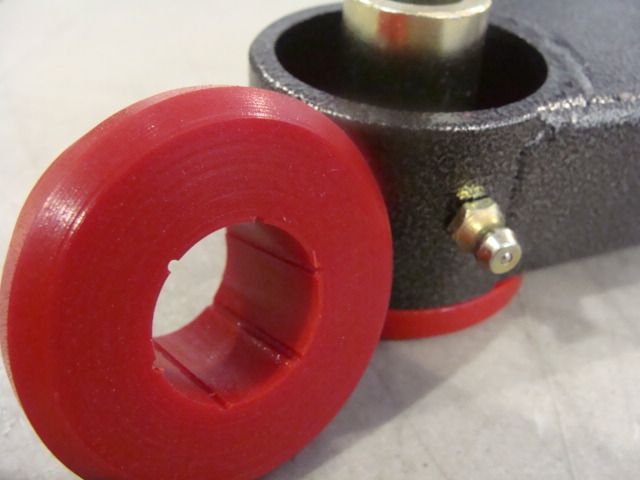 Yes we mentioned grease. BMR lower control arms have grease fittings and it is highly suggested you use a full synthetic grease as we do here in our installation facility at Brenspeed and as recommended by BMR. If you use a non synthetic grease you could cause pre-mature bushing failure as it is designed for full synthetic. Good news…. You can get full synthetic grease at any auto parts store.
Another important feature in the BMR lower control is it retains the factory rear offset that is designed into the OEM lower control arm. This is something many aftermarket lower control arms do not retain. The reason for the correct offset is to insure that the factory rearend geometry is retained. When you do not retain the factory geometry severe bushing deflection or bind can occur. So all lower control arms are not created equal right? Let's keep going….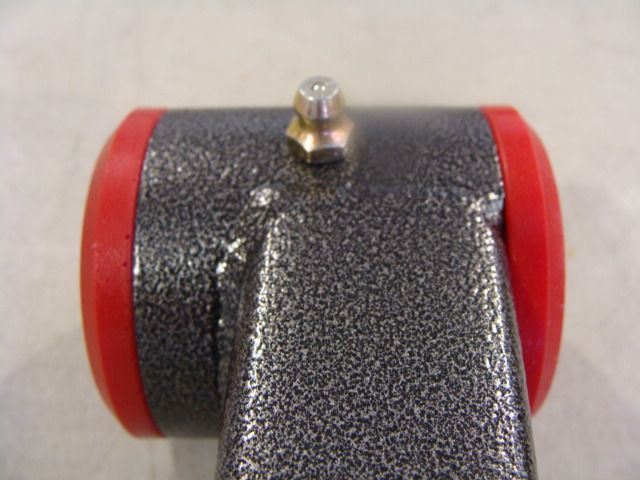 Something you may notice about the TCA019 BMR lower control arm is it is a boxed design rather than a tubular design. A boxed design is stronger and allows for a much larger contact area at the tig weld between the arm and bushing housing. Again this is something that improves strength and quality of the control arm. The arm itself is steel and then powder coated in a nice black hammertone finish. Red powder coating is available on a special order basis as well.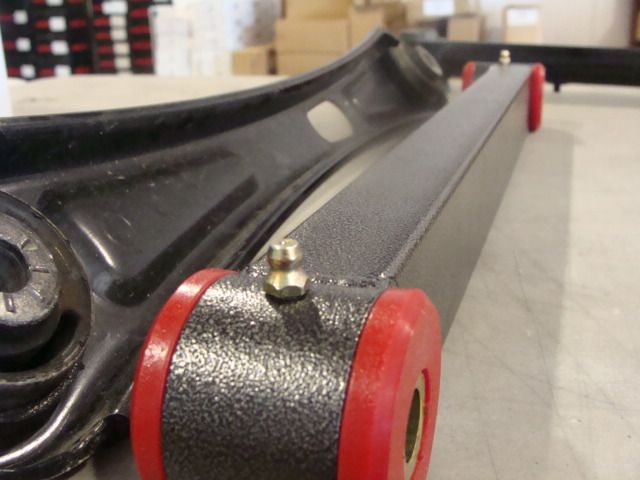 Installation is not a difficult task if you have standard hand tools, a jack, and stands. If you are not one to tackle installations we can of course get you taken care of in our state of the art installation facility. We hope you are more knowledgeable now on lower control arms and how they are not all created equal. We suggest the
BMR TCA019
for most street cars with improved engine power. If you are building a serious race car BMR and
Mustang Performance Parts & Upgrades by Brenspeed
offers a HUGE selection of even more serious lower control arms that have even more strength, and spherical bushings that will support fast 60 foot times and big Mustang power.
CLICK HERE TO SEE THE BMR TCA019 CONTROL ARMS ON BRENSPEED
Looking for a more race style control arm? Maybe relocation brackets or other BMR products?
CLICK HERE TO SEE OTHER HIGH QUALITY BMR CONTROL ARMS & PRODUCTS ON BRENSPEED
LEFT WITH QUESTIONS? CALL US AT 574.594.9559 AND ONE OF OUR TEAM WILL GET THEM ANSWERED! OR E-MAIL TECH@BRENSPEED.COM